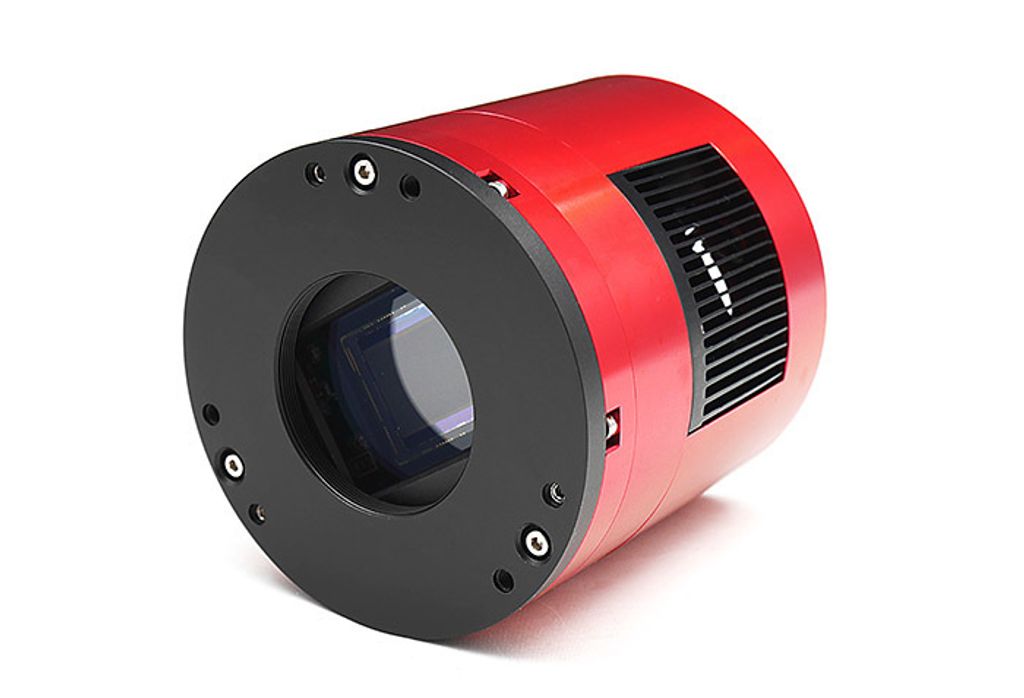 ZWO ASI 2600MC PRO Camera - ZWO Malaysia Authorized Dealer

ZWO AUTHORIZED DEALER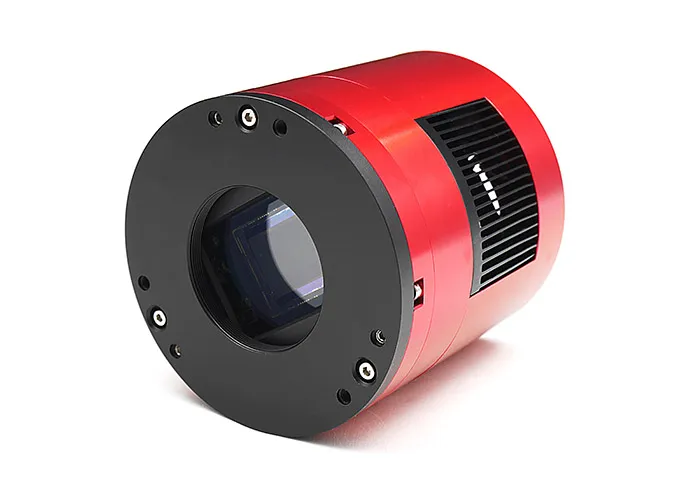 ZWO ASI 2600MC PRO ASTRONOMY CAMERA
EACH UNIT HAVE SERIAL NUMBER AND COMES WITH 2 YEARS WARRANTY. INCLUDES TEMP TESTING, SENSOR TEST, AND ALSO SPOTTING FOR LEAKING GREASE. UNAUTHORIZED (GREY) MARKET UNIT IS NOT COVERED BY ZWO WARRANTY OR AFTERSALES SERVICE
ASI2600MC Pro uses Sony's latest back-illuminated IMX571 APS-C format native 16-bit ADC sensor. It has an ultra-high 14 stops dynamic range, ultra-low 1.0e readout noise and an innovative breakthrough resulting in zero amp-glow. It is a camera born from the appeal of astrophotography lovers.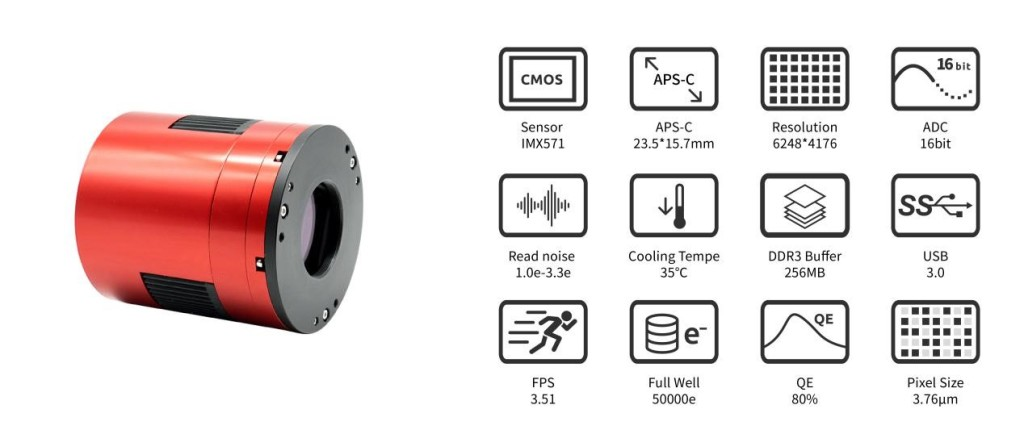 Amazing Craftsmanship, Lightweight body, Solid image quality:
We have been working hard to reduce the weight of the camera while improving the performance of the camera. After years of technical accumulation and repeated weight loss experiments by ZWO engineers, ZWO finally concentrated the ASI2600 to 0.7KG.
APS-C format:
The ASI2600MC Pro uses APS-C format, the sensor length and width are 23.5mm * 15.7mm and the diagonal is 28.3mm. This is a 26MP camera with a small pixel size of 3.76um that can accommodate a large well depth of 50ke.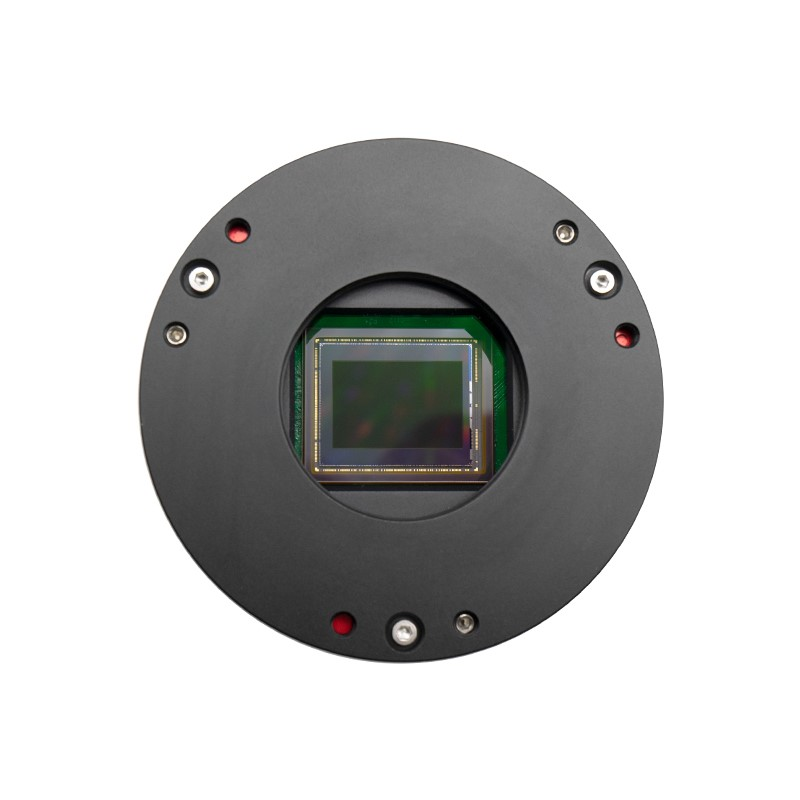 Native 16bit ADC:
ASI2600MC Pro is our first batch of CMOS astronomy cameras with 16bit ADC. This 16bit ADC is not a CCD 16bit ADC, and it can really achieve a dynamic range output of 14 stops. This significantly improves the image sharpness and contrast, and the color changes are smoother and more natural.



IMX571 backlit sensor:
Sony's back-illuminated CMOS image sensor improves sensitivity and noise reduction – the key factors to enhancing image quality, while radically realigning their fundamental pixel structure from front-illumination to back-illumination. It has retained the advantages of CMOS image sensors such as low power consumption and high-speed operation.
With a conventional front-illumination structure, the metal wiring and transistors on the surface of the silicon substrate that form the sensor's light-sensitive area (photo-diode) impede photon gathering carried out by the on-chip lens. A back-illuminated structure minimizes the degradation of sensitivity to optical angle response, while also increasing the amount of light that enters each pixel due to the lack of obstacles such as metal wiring and transistors that have been moved to the reverse of the silicon substrate.
Sony has newly developed a unique photo-diode structure and on-chip lens optimized for back-illuminated structures, that achieves a higher sensitivity and a lower random noise without light by reducing noise, dark current and defect pixels compared to the conventional front-illuminated structure.

Camera Performance
The ASI2600MC Pro has excellent performance with a dynamic range of up to 14stops. When the gain value is 100, the magical HCG high gain mode is turned on, the readout noise is greatly reduced, and the dynamic range is basically unchanged. It is recommended to set the gain to 0 or gain 100 in deep space.

Zero Amp Glow
Traditional CMOS sensors produce a weak infrared light source during operation quite often seen in the corner of uncalibrated images as the tell tale signs of 'amp glow'. As the ASI2600MC Pro uses zero amp glow circuitry, you won't have to worry about amp glow even when using high gain, long exposure imaging.
With amp glow – exposure 300 second exposure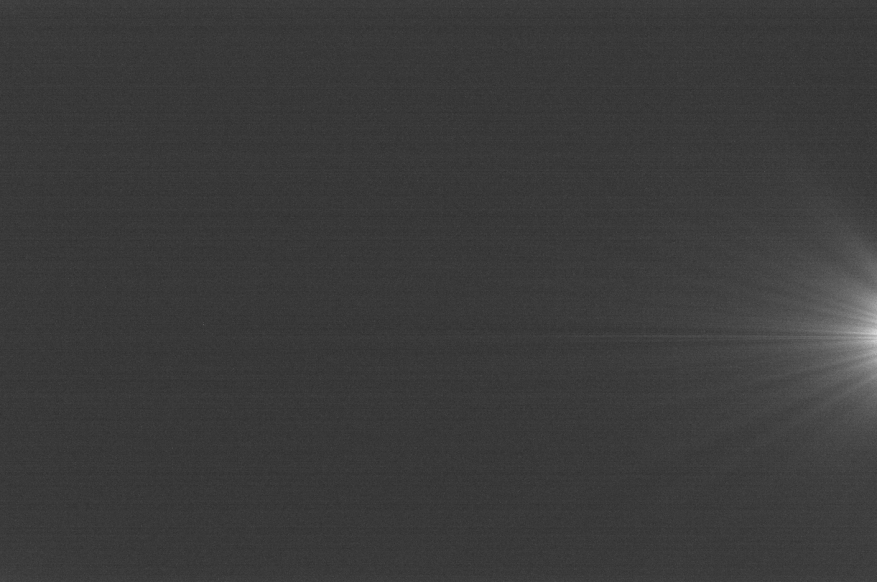 ASI2600 frame with no amp glow – Exposure 300 second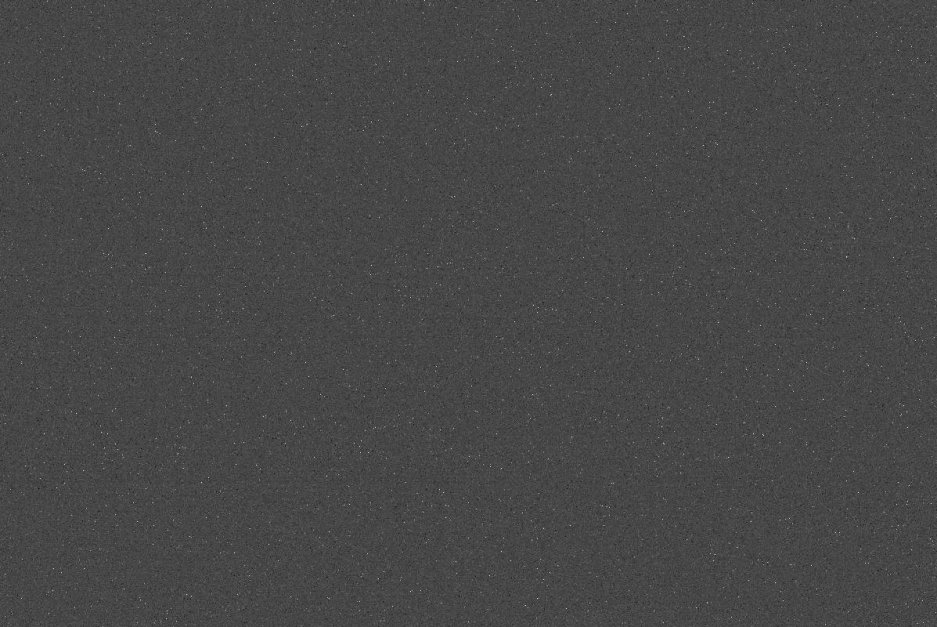 Anti-dew
ASI2600MC Pro comes with the polyimide heater.
The anti-dew heater which completely fit the protective window will heat it to avoid any dew problems.
The heat anti-dew heater power is around 5W and can be turn off in software to save power.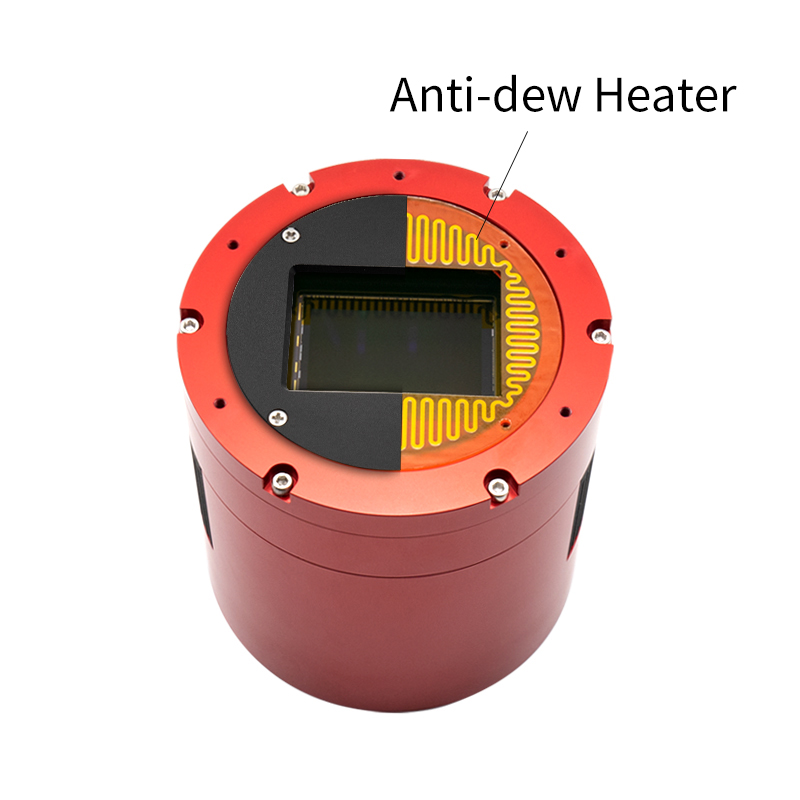 QE value:
We suppose that the QE peak value of the ASI2600MC Pro is above 80%.
Two-stage TEC cooling, ultra-low dark current:
Like the ASI6200, the ASI2600MC Pro also uses two stage TEC cooling and can lower the CMOS sensor temperature to more that 35c below ambient, which can greatly reduce dark current generation and sensor noise even with extended exposure times.
The unique dark current suppression technology can even further reduce dark current noise.
At a cooling temperature of 0 °, the dark current noise is only 0.0024e/s/pix. Which means 300s exposure can only cause 0.7e dark current noise, which is completely negligible!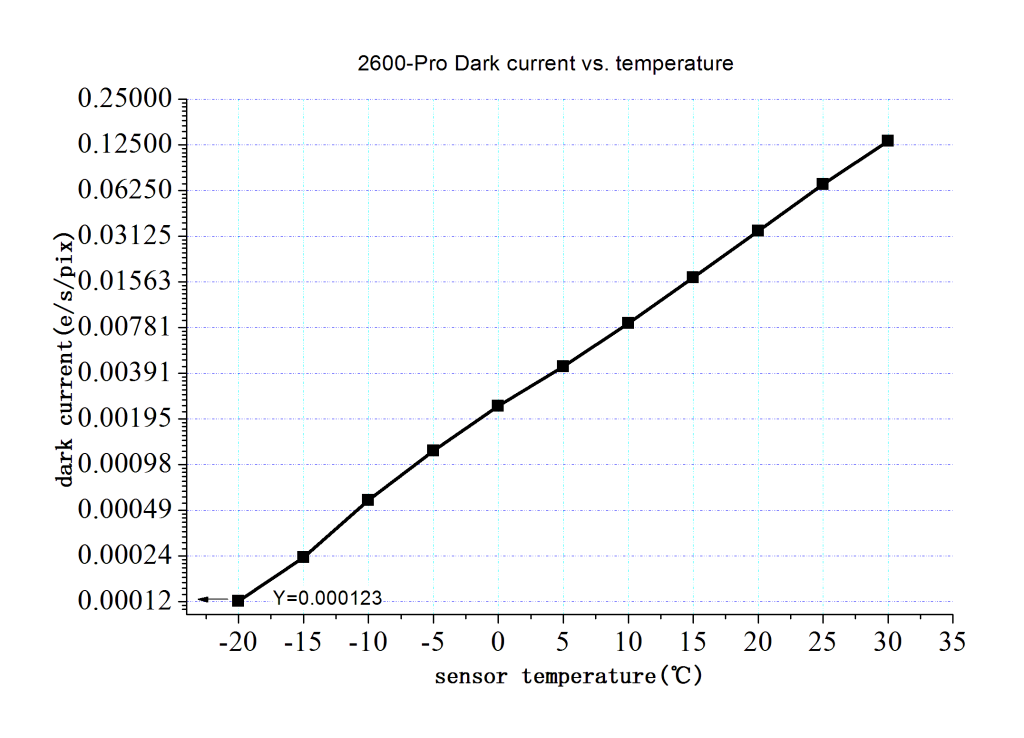 Note:ASI2600MC Pro camera requires 1A current from the USB, if your PC can not provide enough current, please use an external 12V power supply to power the camera .


DDR3 Memory Buffer
The ASI2600MC Pro is equipped with a USB 3.0 transmission interface and a built-in 256MB DDR3 cache to ensure stable and secure data transmission. Under long exposure, it effectively avoids frame dropping and greatly reduces the glow effect caused by slow reading speed.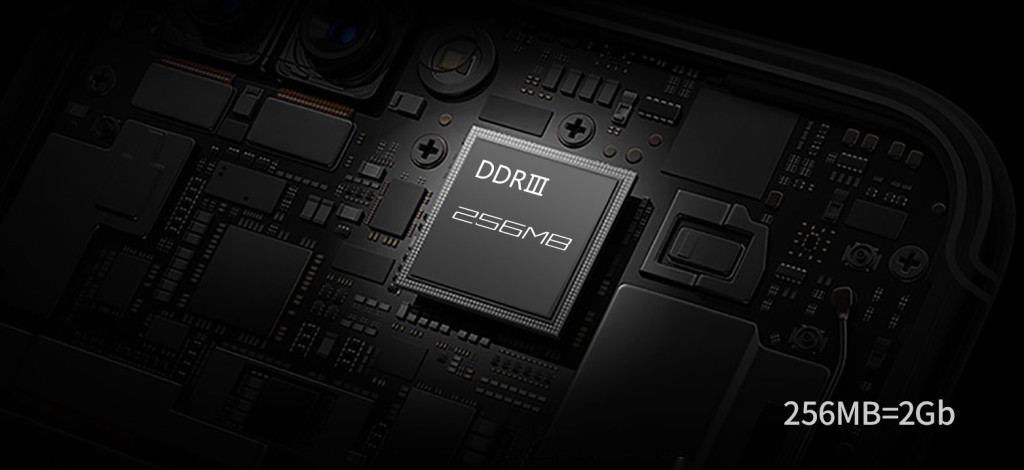 Mechanical Diagram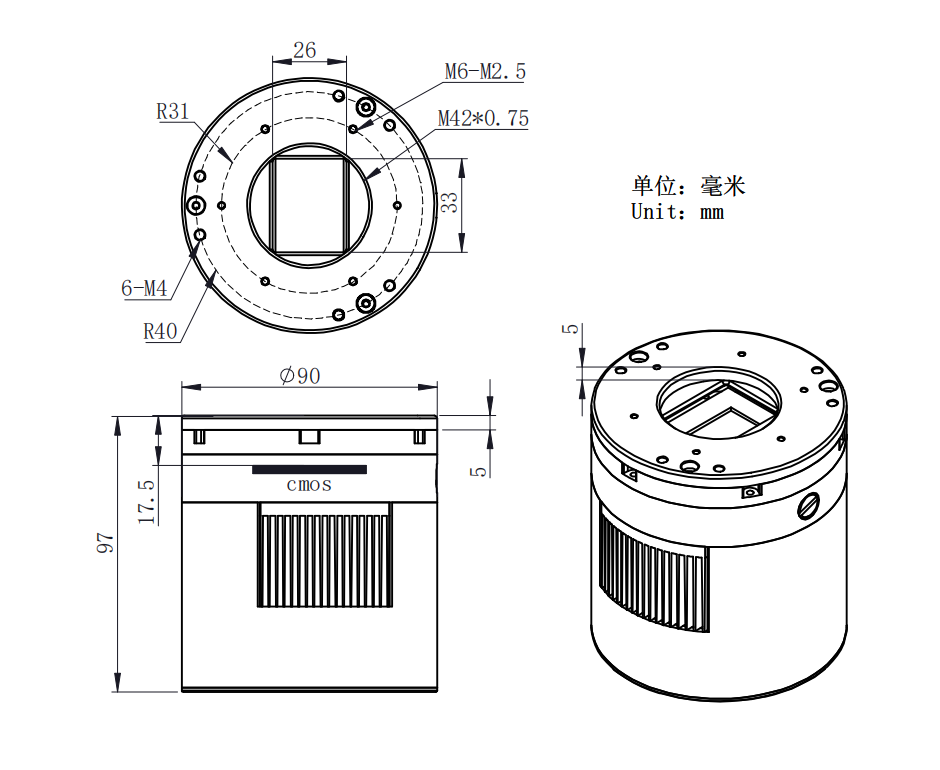 What is in the box?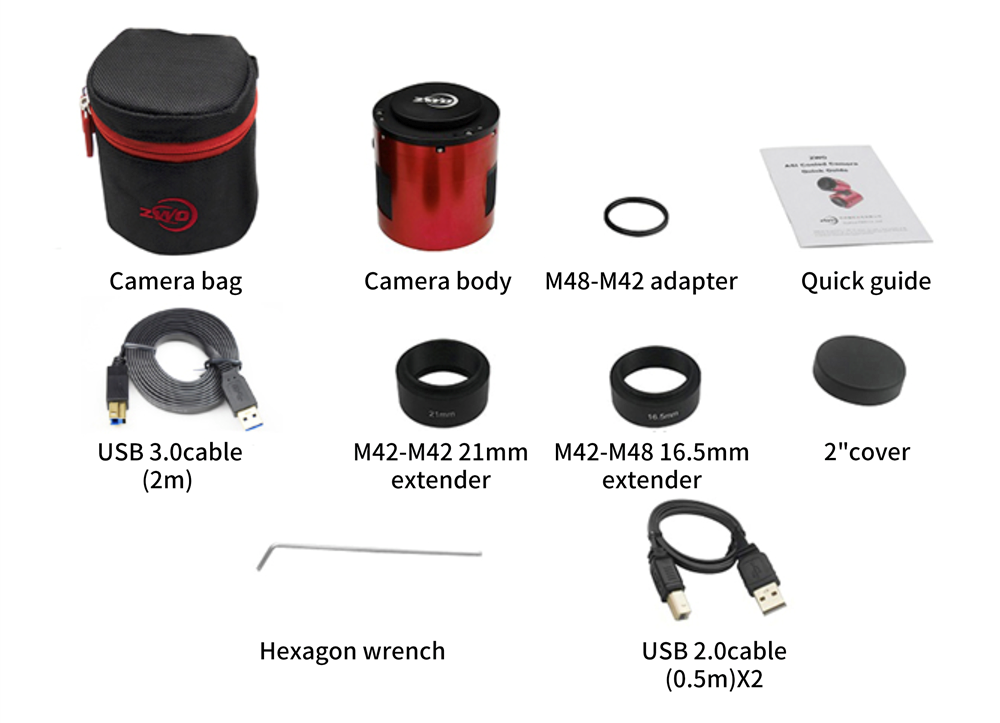 Notice:Cooled cameras need a 12v power adapter, If you don't have one, please click this link to buy a 12V power adapter. There are 4 different standard for different contury, please choose it carefully.
https://astronomy-imaging-camera.com/product/acdc-adapter-12v-5a-for-cooled-cameras
The best solution of 55mm back focus length
Read more: https://astronomy-imaging-camera.com/tutorials/best-back-focus-length-solutions-55mm.html
You can attach 2″ EFW to 2600MC Pro as well if you would like to, please refer to the instruction HERE.
Connecting Diagram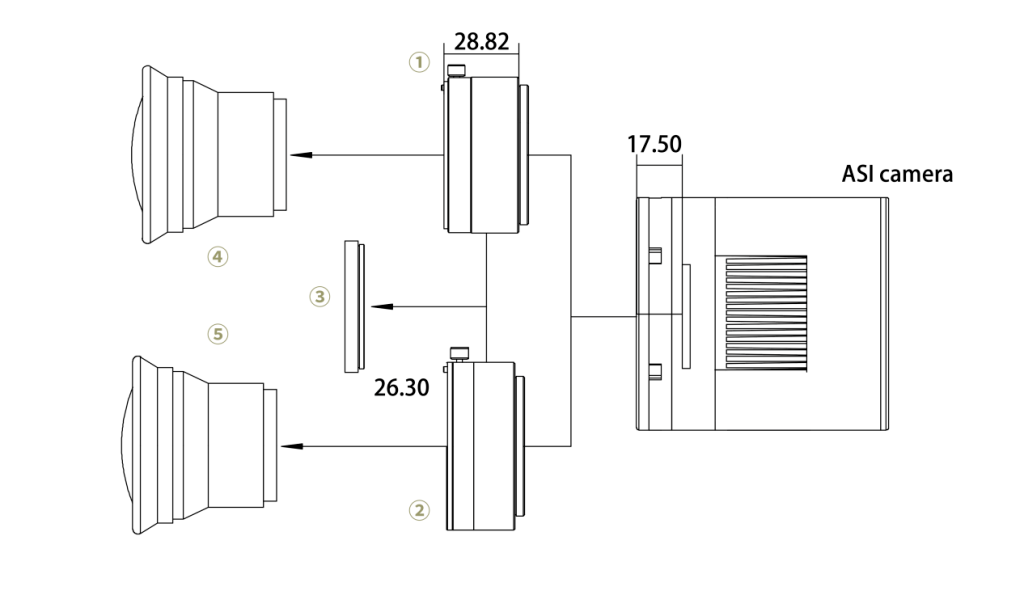 Nikon-T2 adapter
EOS-T2 adapter
2" filter (optional)
Nikon lens
Canon lens
ZWO AUTHORIZED DEALER UNIT
Customer comments
| Author/Date | Rating | Comment |
| --- | --- | --- |