William Optics Zenithstar 103 APO Refractor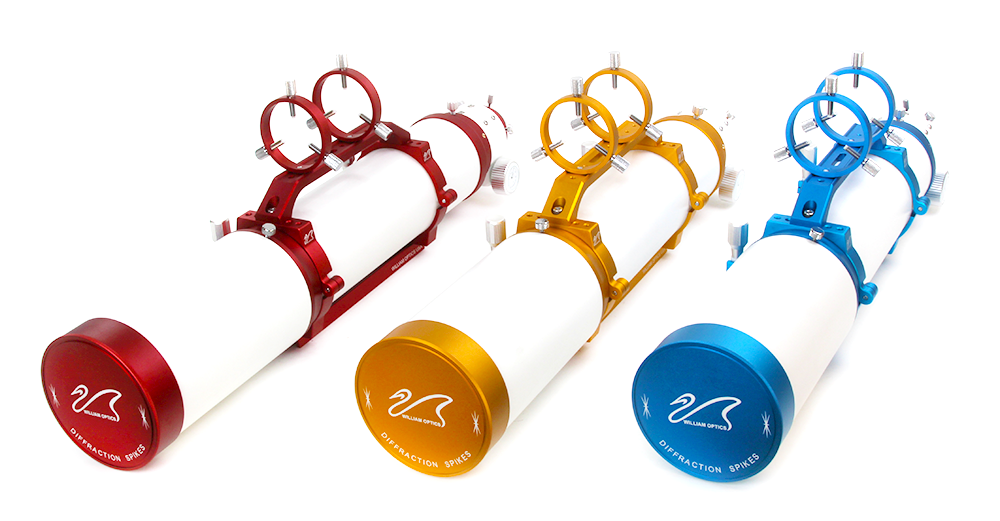 WILLIAM OPTICS ZENITHSTAR 103 APO
New 2018 Super ZenithStar 103 F6.9 imaging APO (Innovative Bahtinov Mask Cover (Patented) included !!)
We are very exciting to announce New 2018 Super ZenithStar 103 F6.9 imaging APO!!!
Innovative Bahtinov Mask Cover (Patented) included!
This beautiful scope is everything you always wanted in a refractor, starting from extreme sharpness for clear details, and APO color correction.

It has all the benefits of the ZenithStar family at a price that is truly unbelievable.
William Optics ZS103 Features
F/6.9 FPL53 Doublet air-spaced APO, in CNC machined ultra-high precision lens cell;
F5.5 with x0.8 Flattener.
2.5"R&P Ultra robust focuser with 1:10 dual speed: a treat to use during astrophotography. No image shifting! Heavy duty: perfect for your accessories.
Do-all instrument
Despite its 103mm objective, the scope is still very compact and solid. Many airlines will accept it as carry-on luggage! Perfect size for serious observations of deep sky objects and planets. Solar observations possible with proper additional equipment.
Standard Package:
• Mounting Rings
• Guiding Rings
• CNC Carry Handle Bar
• Long Vixen Style Dovetail Plate
• 2.5" R&P Focuser
• Innovative Bahtinov Mask Cover (Patented)
• Two-year, no fuss warranty and constant customer service!
Optional Accessories:
• M63 -2" Rotolock
• 1.25" Rotolock
• All New 50mm/F4 Rotolock Guide scope
• New Full frame x0.8 Flattener
• Soft Carry Case
Retracted Length:615mm
Tube with Rings and Dovetail Weight:4.36kg
Customer comments
| Author/Date | Rating | Comment |
| --- | --- | --- |