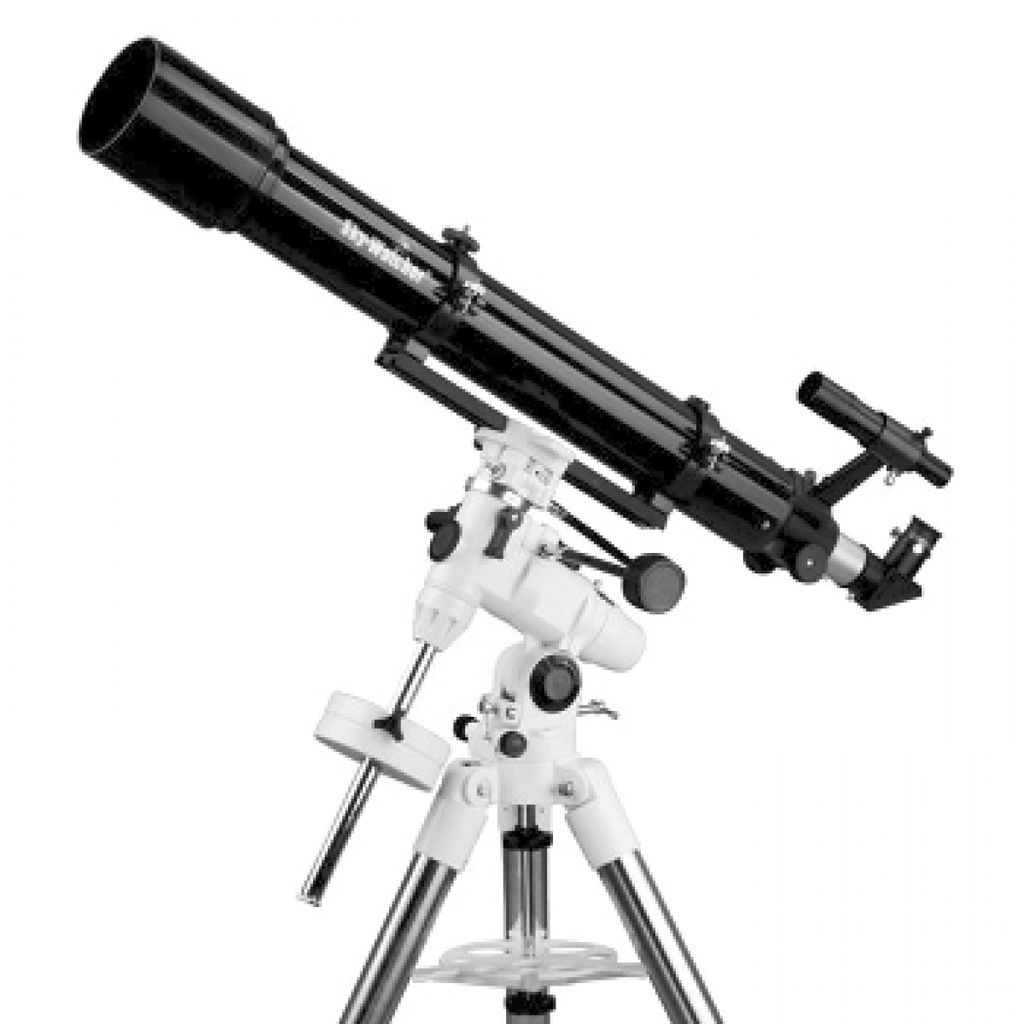 Skywatcher Evostar 90 EQ3 Refractor Telescope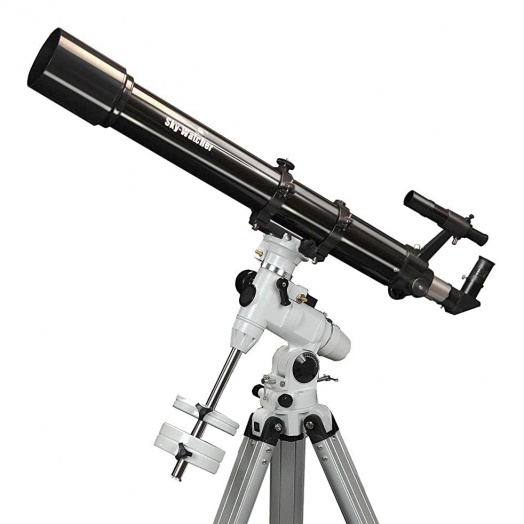 Skywatcher USA Evostar 90 EQ-3 Refractor
Skywatcher USA Evostar 90 EQ-3 Astronomical Telescope Features 90mm (3.5'') Achromatic Refractor Telescope Allow Viewing Of Astronomical Objects With Better Resolution And Magnification - Providing 27% More Power Than 80mm And 65% More Power Than 70mm Model. Built With High Quality And Standard, This Is Great Telescope As Gift Or Personal Usage. Comes With EQ-3 Class Mount - A Solid Foundation For High Precision Astrophotography.
Skywatcher USA Evostar 90 EQ-3 Telescope Is Upgrade To Original Evostar 90 Series, Suited For Those Looking For A More Serious Mount With Upgradibility To Motorization Of Go-To Function
Features
Achromatic Refractor Design
Achromatic Refractor Design Feature Doublet Lens (Crown & Flint Element) To Minimize Chromatic Aberation. The Optics Are Multi-Coated To Enhance Contrast And Reduce Glare From Bright Lights. 90mm Aperature Gives Good View Of Moon, Planets And Also Deep Space Objects
High Quality Equatorial Mount
Skywatcher EQ-3 Mount Is Choice For Beginner Astronomer Looking For Imaging And Visual Mount. The Skywatcher EQ-3 Mount Can Be Upgraded To Motor Drive Or Go-To System For Deep Space Imaging
Adjustable Stainless Steel Tripod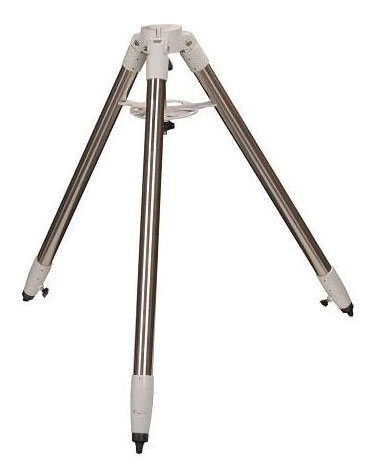 Skywatcher EQ-3 Comes Standard With 1.75'' Stainless Steel Tubular Tripod To Provide Stability And Sturdy Platform For Imaging. The Tripod Is Relatively Light Weight For Transportability. Best Choice For Portability And Stability
Computerized Go-To System Upgrade
Skywatcher EQ-3 Mount Can Be Upgraded To Go-To Technology. Go-To System Features Built-In Internal Computerized System With 42,000+ Object Database, Which Is Fully Upgradable For Future Database Expansion. The Controller Controls The Precise Dual Axis Servo Motor Allowing Accurate Go-To And Tracking
High Quality Accessories Included
Skywatcher USA Evostar 90 Refractor Comes Standard With 25mm And 10mm Super Eyepiece Series. Super Series Eyepiece Are Modified Achromatic (Kellner) Design Eyepiece - Very Good Quality For Beginner, Giving Very Sharp View And Image. Also Comes Standard With High Quality Multi-Coated 6x30 Achromatic Finder Scope. This Is Significantly Better Than Smaller 5x24 Low Quality Finder Found In Lower End Telescopes.
Specifications
Achromatic Refractor Optical Design

90mm Primary Mirror (3.5'' Aperature)

900mm Focal Length

F/10 Focal Ratio

210X Maximum Useful Magnification

165X Light Gathering Power

12.0 Limiting Magnitude

1.30 Arc Seconds Resolution

Equatorial Mount (EQ-3 Class)

Motorize : Yes (Optional)

Total Assambled Weight : Kg

Finishing : Glossy Black

Included Items
Skywatcher USA 90mm F/10 Refractor

EQ-3 Mount

Stainless Steel Tripod

Counterweight

1.25'' 25mm Super Eyepiece (36X)

1.25'' 10mm Super Eyepiece (90X)

Accessories Tray

Slow Motion Control Cable

6x30 Achromatic Finder Scope

Star Diagonal

User Manual

T-Adapter For DSLR Connection Intergrated

12 Months Skywatcher Malaysia Warranty
Customer comments
| Author/Date | Rating | Comment |
| --- | --- | --- |