Optolong UHC Clip On Filter - Nikon DSLR Full Frame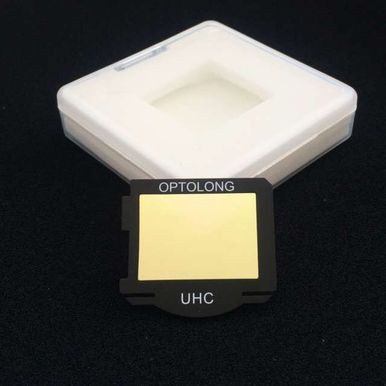 Optolong UHC Filter - Nikon FF
This UHC, or Ultra High Contrast, filter from Optolong provides a bit more contrast than the CLS filter, but works in much the same way. By reducing the contrast-killing effects of light pollution caused by both artificial and natural sources, the background sky becomes darker, increasing the visibility of your favorite deep-sky objects. Skyglow, which is caused by neutral oxygen in the atmosphere, as well as light from high and low pressure sodium vapor lights and mercury vapor lamps are suppressed significantly, which means you can view or image from areas of heavy light pollution.
Optolong's UHC filter lets desirable wavelengths pass at a peak transmission of 95%, including emission lines at OIII, H-Beta, NII, H-Alpha, and SII. This filter also has a substantial red passband, so objects like the Orion Nebula look awesome!
Optolong Nikom FF UHC Clip Filter is made with Schott glass that has been multi-coated with an ion-assisted deposition technology to ensure scratch resistance and stability on the central wavelength, or CWL. Each filter cell is made of lightweight, strong metal and CNC machined, sand-blasted, black anodized, and laser engraved.
Using a Clip Filter on your Nikon FF
The Optolong Nikon FF Clip filter can be inserted without tools; just use your fingers to insert or remove the filter. Once inserted correctly, it cannot unintentionally fall out.

No changes to the housing are required. All lens functions will work with the Clip installed, including focus, screen, and image stabilization,

The Optolong clip filter prevents dust from settling on the sensor during long exposures.



Quality Filter Materials:
Schott substrate material from Germany, 1.0mm thick

CNC machined and black anodized aero-metal filter cell that is ultra-thin to provide largest clear aperture; Laser-engraved to prevent fading

Multiple layers of anti-reflection non-cementing coatings applied via electron-beam gun evaporation with Ion-assisted deposition
Optolong Filter Manufacturing Processes and Parameters
Filter substrate is fine-optically polished to 1/4 wave and <30 parallelism over both surfaces

Surface quality, according to MIL-O-13830, is 60/40

95% transmission of main nebula emission lines (i.e. H-alpha 656nm, OIII 496nm and 500nm, SII 672nm and H-beta 486nm

0.1% transmission of off-band, specifically the major emission lines of artificial light pollution (i.e. Na 589nm, Hg 435nm and 578nm)

Optolong's planetary rotation system is a homogenous and precise coating procedure that ensures both high transmission of pass-band and optical density of off-band

Each filter comes with a plastic case with high pressure EVA case lining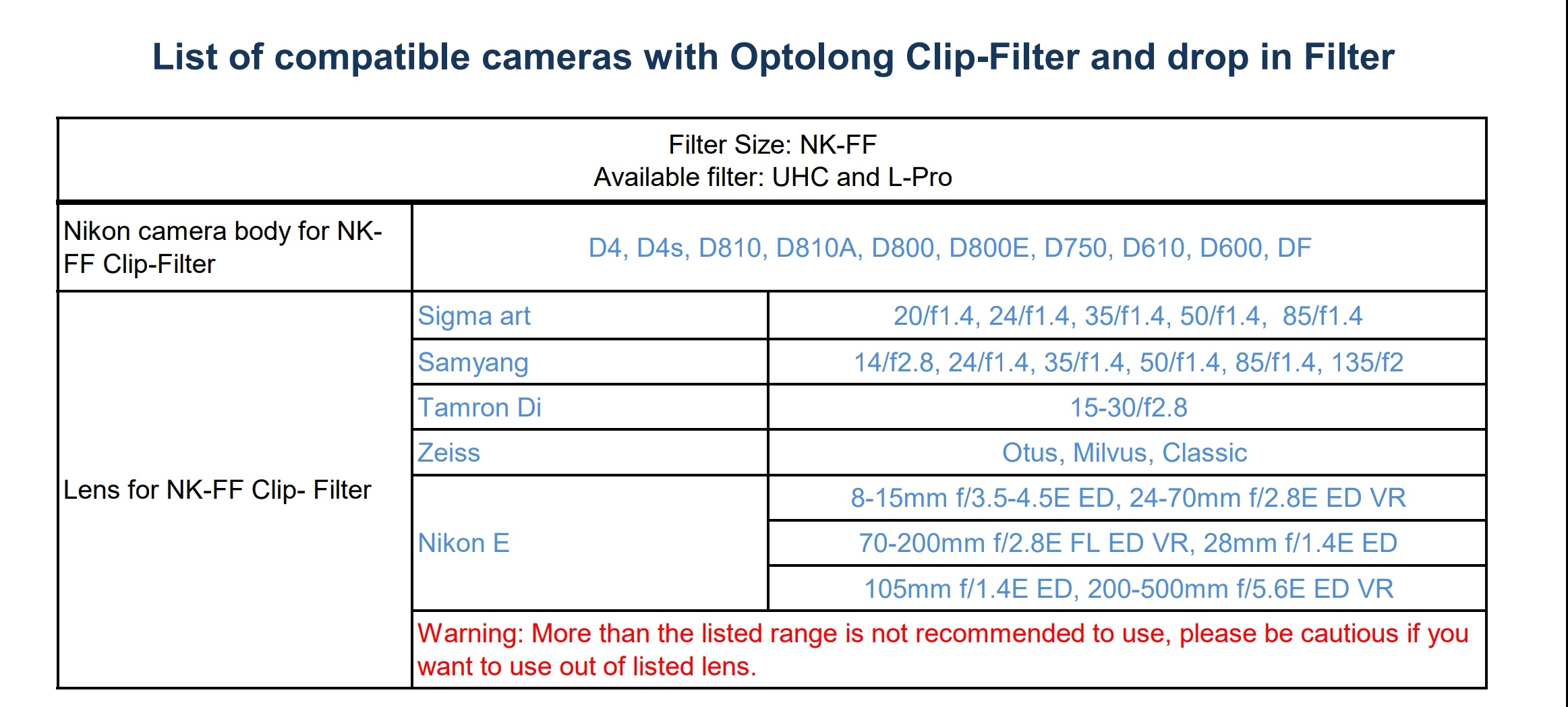 Customer comments
| Author/Date | Rating | Comment |
| --- | --- | --- |