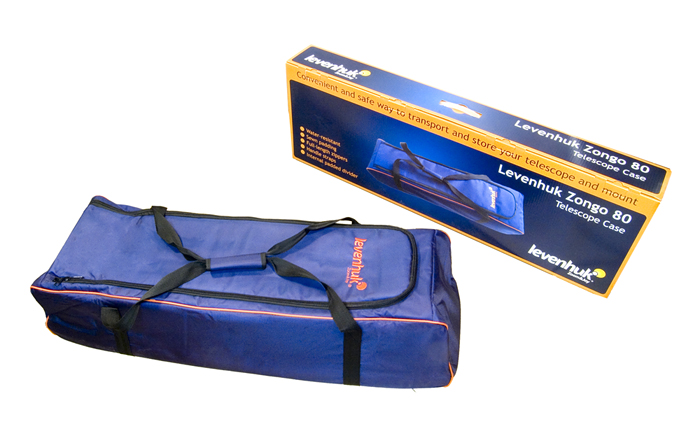 Levenhuk Zongo 80 Bag
The Levenhuk Zongo 80 Telescope Case is perfect for anyone who often travels to the countryside for stargazing. It can be used with a number of telescopes, including the Levenhuk Skyline PRO 105 MAK, Levenhuk Skyline 120x1000 EQ, Levenhuk SkyMatic 105 GTA, and other similar models.
The large compartment in this bag can hold the telescope tube itself, along with a mount, an accessory tray, and a tripod. An internal padded divider separates the tube from the mount and tripod, while hook-and-loop fasteners keep counterweights in place—which means that your telescope is safely protected from any impacts. When packing the tripod, we recommend that you place its upper part in the case first, then insert the tripod legs – one by one.
You can carry it in your hands by the handles, or you can sling it over your shoulder with a wide strap. Even the colorful box that the case is shipped in can be easily carried by a handle.
| | |
| --- | --- |
| Box size: | 35x12x101 cm/13.8x4.7x39.8 in |
| Bag size: | 100x31x28 cm/39.4x12.2x11 in |
This bag will protect your telescope from any impacts while transported, and from dust and moisture while stored. The Levenhuk Zongo 80 Telescope Case is made of durable dark blue nylon, with orange elements and Levenhuk logos sewn in.
This bag is suitable for the following telescopes:
Skywatcher Evostar 90 EQ2
Skywatcher Explorer 130P EQ2
Skywatcher Explorer 150 P/PDS OTA
Skywatcher Evostar 120 OTA
Skywatccher Star Discovery 150P
Skywatcher Star Discovery 102
Skywatcher Star Discovery 127
Skywatcher StarTravel 102 GoTo
Levenhuk Skyline 120x1000 EQ
Levenhuk Skyline 130x900 EQ
Levenhuk Skyline 70x700 AZ
Levenhuk Skyline 70x900 EQ
Levenhuk Skyline 76x700 AZ
Levenhuk Skyline 90x900 EQ
Levenhuk Skyline PRO 105 MAK
Levenhuk Skyline PRO 127 MAK
Levenhuk Skyline PRO 80 MAK
Levenhuk Skyline PRO 90 MAK
Levenhuk SkyMatic 105 GT MAK
Levenhuk SkyMatic 127 GT MAK
Customer comments
| Author/Date | Rating | Comment |
| --- | --- | --- |