Levenhuk Rainbow 50L NG Microscope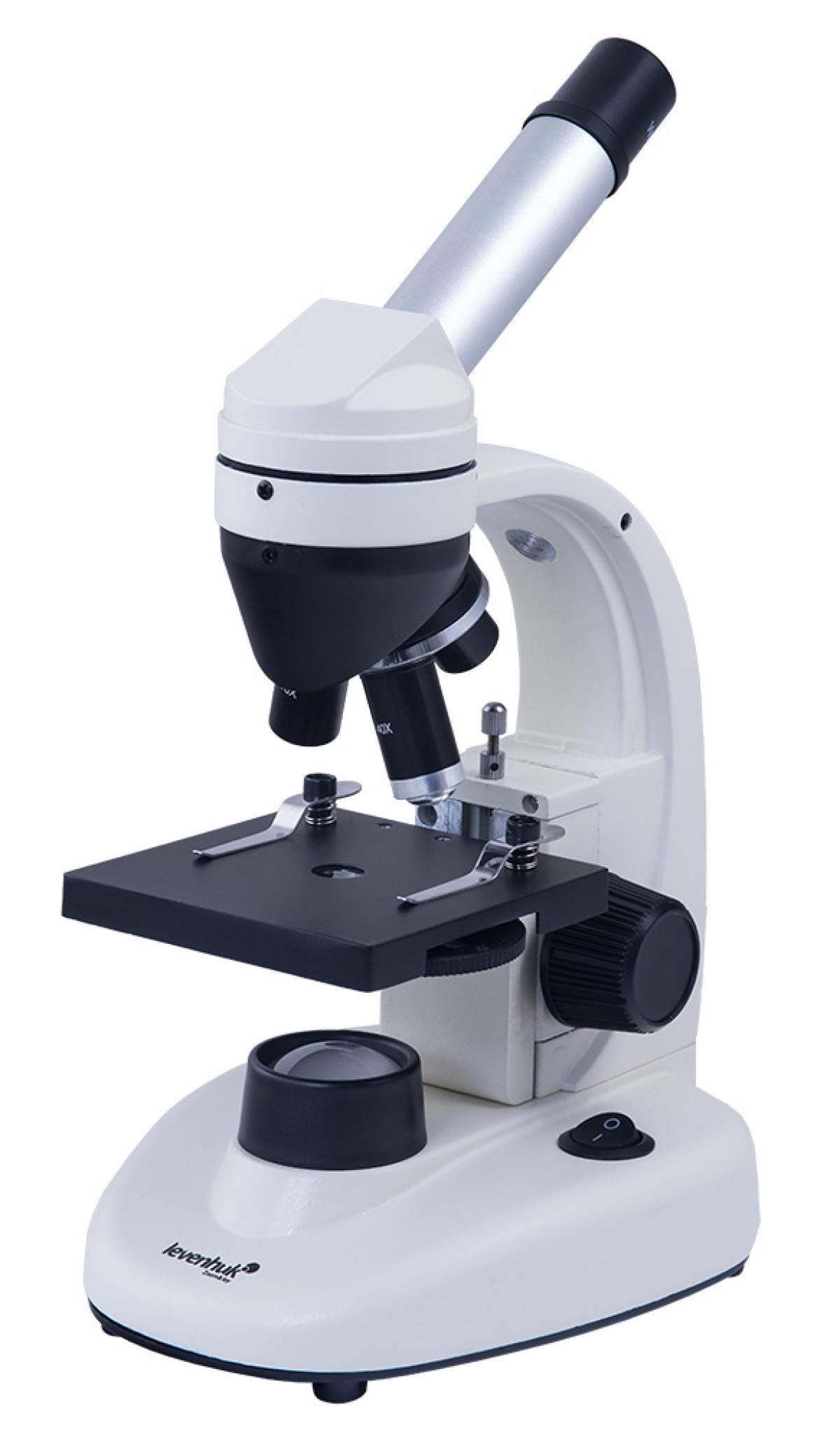 Levenhuk Rainbow 50L NG Microscope
The Levenhuk 50L NG teaching biological microscope.
This excellent biological microscope is ideal for use in schools or colleges as well as for your own research of microworld.
Superb production quality: body and elements are all metal, not plastic.

Focusing mechanism and stage move smoothly, without jerks or backlash.

Rotatable head can be fixed in any position, which makes observation much more convenient.

Eyepieces, objectives and all other optical elements are multi-coated and highly transparent.
Thanks to all these features, the microscope for biology studies provides the extremely high image quality and long microscope life without any special maintenance.
Magnification
Magnification depends on the objectives (located below) and eyepieces (located above) being used.
The set includes two eyepieces and three objectives as well as Barlow lens, which allows to smoothly change the magnification ratio.
Eyepieces: WF10x, WF16x
Objectives: 4x, 10x and 40x
Barlow lens: 2x
Minimum magnification: Eyepiece 10x * Objective 4x = 40x
Maximum magnification: Eyepiece 16x * Objective 40x = 640x, and with Barlow lens magnification smoothly reaches 640*2.0 = 1280x
Illumination
This biological microscope is distinguished by an important feature - two illumination systems with adjustable brightness. Built-in illumination is LED, which ensures minimal energy consumption yet still providing sufficient light.
Illumination systems are located above and below the stage, and allow observing both transparent and opaque objects: from tiny solid particles to coins, paper, fabrics, etc. (It would be fascinating to observe a mobile phone screen - actually, each pixel consists of three segments, red, green and blue.)
Power supply
The microscope features an AC adapter, for stationary observations without batteries.
Caution: Please refer to the specifications table for the correct mains voltage and never attempt to plug a 110V device into 220V outlet and vice versa without using a converter. Remember that mains voltage in the U.S. and Canada is 110V and 220-240V in most European countries.
The kit includes:
Microscope
Objectives: 4x, 10x, 40x
Two eyepieces: WF10x, WF16x
2x Barlow lens
Stage with clips
Diaphragm disk
Built-in lower LED illumination
Retractable upper halogen illumination
AC adapter
3 AA and 2 AAA batteries
Durable plastic case for the microscope and accessories
"Attractive Microscope. Scrutinizing the Microcosm" User Guide
Forceps
Hatchery for brine shrimp
Microtome (tool for making fine slices for observation; allows to get specimen slices of sub-millimeter thickness).
Flask with yeast
Flask with pitch for making specimens
Flask with sea salt
Flask with brine shrimp (a sea organism used as a food source for fish)
5 ready-to-use specimens
5 blank slides
Dust cover
User manual and lifetime warranty
Levenhuk 50L NG Color Selection:
Some things you can see under a microscope:
Specifications
Full Glass Optics

40-400x Magnification

1600x Digital Magnification

WF 10 Eyepiece

3 Nosepiece Objective (40x, 160x, 400x)

LED Light Illumination

2MPixel Image

Rubber Armoured Body

USB 2.0 Interface

Video And Still Picture Capturing
The kit includes:
Microscope

Objectives: 4x, 10x, 40x

Eyepiece: WF10x

Eyepiece adapter

Retractable LCD display with memory card slot

128 Mb microSD memory card

USB cable

Coordinate moving stage with clips

Diaphragm disk with 5 color filters

Built-in upper and lower LED illuminations

AC adapter*

"Attractive Microscope. Scrutinizing the Microcosm" User Guide

Forceps

Hatchery for brine shrimp

Microtome (tool for making fine slices for observation; allows obtaining specimen slices of sub-millimeter thickness)

Flask with yeast

Flask with pitch for making specimens

Flask with sea salt

Flask with brine shrimp (a sea organism used as a food source for fish)

5 ready-to-use specimens and 5 blank slides

Dust cover

Plastic case

User manual and lifetime warranty
Customer comments
| Author/Date | Rating | Comment |
| --- | --- | --- |