Levenhuk 870T Biology Trinocular Microscope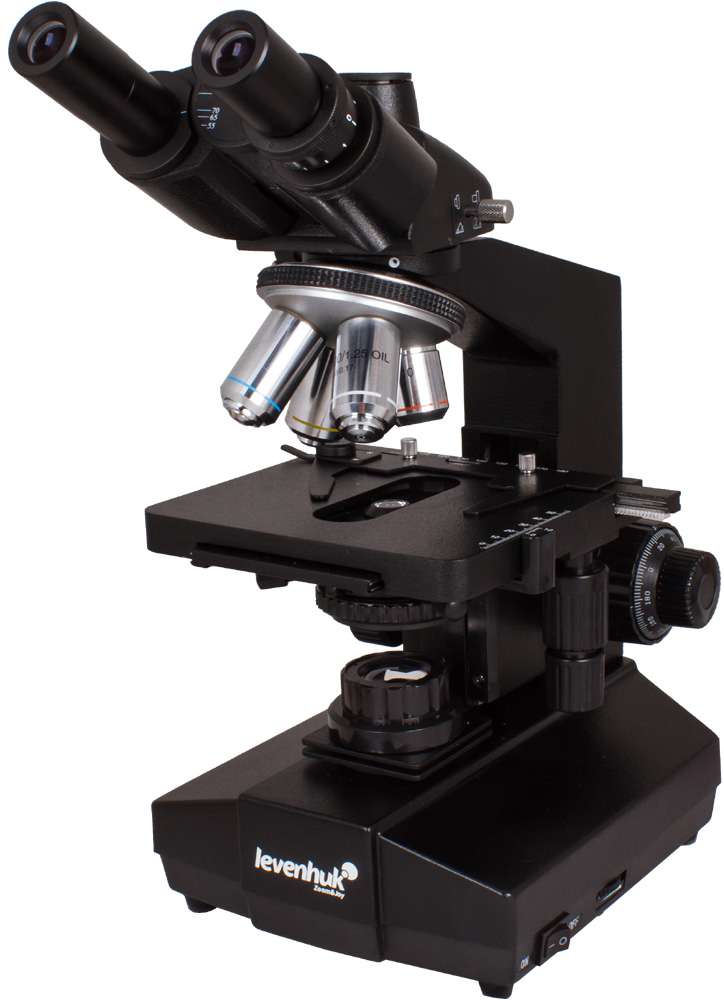 Levenhuk 870T Biology Trinocular Microscope
Levenhuk 870T is a reliable biological trinocular microscope that may be used for both bright field and dark field observations. It is commonly used in various medical laboratories for clinical research in dermatology, biochemistry, cytology, hematology, and other scientific studies. Due to the trinocular design of the head, this model may be turned into a digital microscope with an addition of an eyepiece digital camera.
The head of the microscope is inclined at 30 degrees and may be rotated 360 degrees around its axis. Four objective lenses on the revolving nosepiece, Köhler illumination method, adjustment of the aperture and field diaphragms make this microscope a perfect tool for serious observations.
The stage (140x155 mm, 5.5x6.1 in) moves along two axes. Focusing the view is achieved by rotating the coarse and fine focus wheels that raise or lower the stage itself, thus bringing the sample closer to or farther away from the objective lens. Both focus systems have smooth movements in 25 mm (1 in) increments for coarse and 0.002 mm (0.00008 in) for fine.
There is a variable brightness 6V 20W halogen lamp installed in the base of the microscope that acts as an illumination source.
Features
The Levenhuk 870T trinocular microscope is fitted with a dark field microscope condenser that may be used once the Abbe condenser is raised to its highest position. A dark field microscope is best suited for studying blood and other biological samples that simply cannot be observed in bright field. Rotate the ring on the illuminator clockwise to switch to dark field observations, rotate it clockwise again to switch back to bright field observations.
About dark field observations
Upon leaving the condenser, most of the light rays that pass through a specimen without changing direction form a hollow cone. Since the objective lens is located within this cone, none of the rays are focused on the lens. Only a few light rays, which are condensed on the cover glass upon passing through a specimen, remain within the cone and may be focused on the lens, thus providing the image. We can only observe the bright parts of the object against a dark background since they have different refractive indices; and when observing large samples all we can see are the bright edges that disperse the light rays.
Specifications
Binocular Head

40-2000x Magnification

Dual Wide Field, PLAN WF10x & PLAN WF20x Eyepiece

PLAN WF : 4x, 10x, 40x, 100x (Oil Immersion)

4 Revolving Objective Nosepiece

Abbe Condenser With 1.25'' Premium Iris With Diaphragm And Dark Field Condenser

Halogen Lamp Powered

Coarse And Fine Focuser

Movable Stage (Dual Axis)
The kit includes:
Levenhuk biological microscope

PLAN WF10x and WF20x eyepieces

PLAN WF objective (4x, 10x, 40x, 100x)

Blue filter

Dark Field Condenser

Immersion oil

Backup halogen lamp (6V/20W)

Dust cover

Power cable*

Fuse (2A)

Camera adapter

User manual and lifetime warranty
Customer comments
| Author/Date | Rating | Comment |
| --- | --- | --- |