Levenhuk 625 Biology Microscope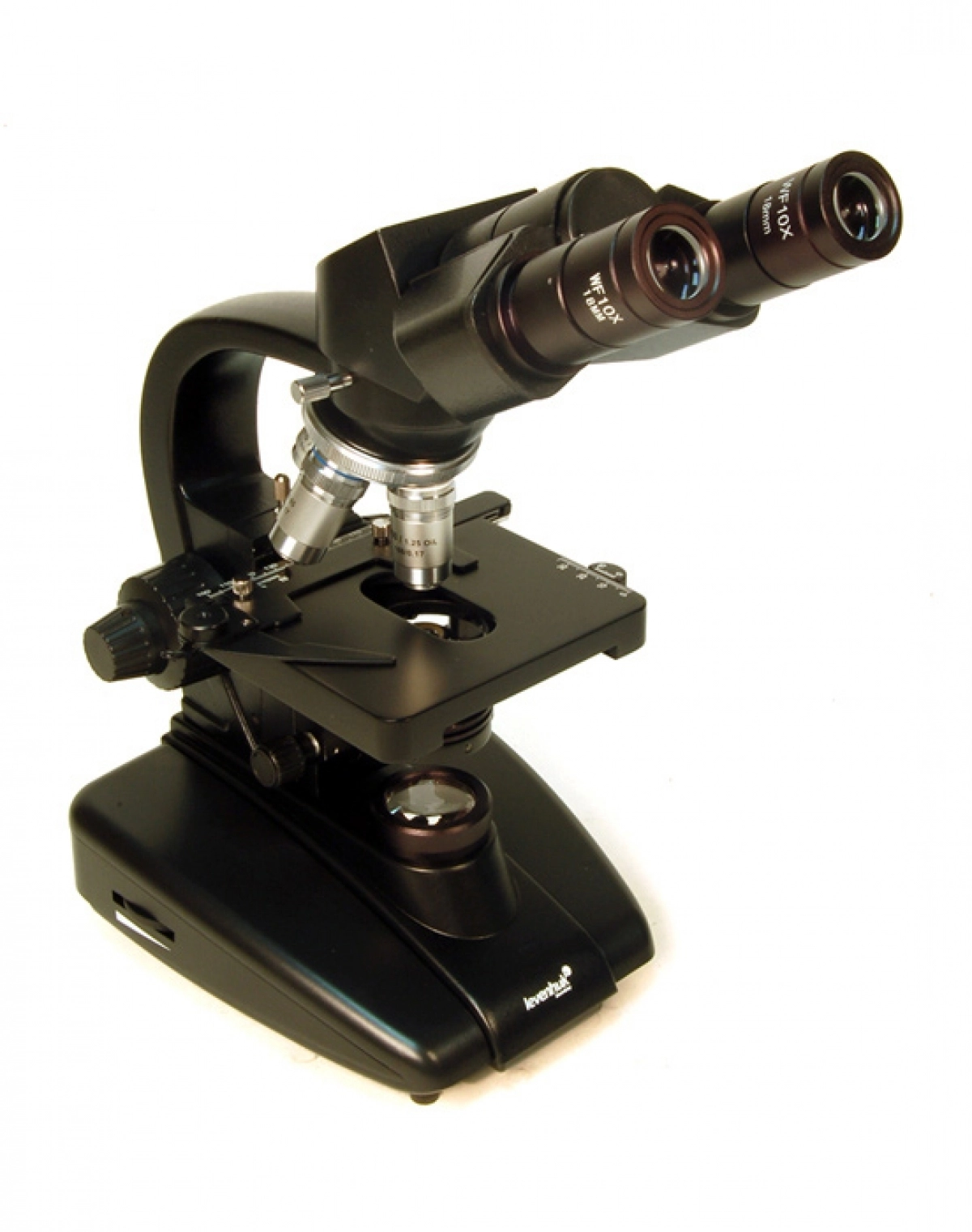 Levenhuk 625 Biology Microscope
Levenhuk 625 Biological Microscope allows for bright field observations, and may be used both at home and in a professional laboratory. Its high-quality optics are fully coated, and deliver sharp and bright images of the observed object. Its binocular head reduces strain on the eyes and allows for lengthy observations.
The Levenhuk 625 has a revolving nosepiece with four objective lenses that allow you to change the magnification on the fly, without interrupting your workflow. The interpupillary distance of the binocular head may be adjusted, which provides additional comfort during observations. The head itself also reduces stress on your eyes due to its binocular design, which means you can work longer without tiring. The eyepieces are inclined at 30 degrees, so that you can sit comfortably during observations. The microscope comes with two sets of eyepieces for increased scope of magnifications. In its basic kit, the Levenhuk 625 yields magnifications from 40x to 2000x. When working at high magnifications (1000x, 2000x), a special technique - oil immersion - is used to increase the quality of the resulting image. This is achieved by immersing both the objective lens and the specimen in a transparent oil of high refractive index. A vial of immersion oil is shipped with the microscope.
The microscope also comes with a blue filter that enhances the contrast of the resulting image during observations of some specimens.
The Levenhuk 625 has a built-in illumination source that allows you to use your microscope even in the dark. The halogen lamp has a variable brightness control and an Abbe condenser so that you can set the illumination to the desired level at any magnification.
The stage of the microscope may be fitted with an additional specimen holder, and moves along two axes so that you can study large objects without having to move the object itself. Separate coarse- and fine-focus systems allow for maximum sharpness of the resulting image.
Specifications
Binocular Head

40-2000x Magnification

WF10x & WF20x Eyepiece

4 Revolving Objective Nosepiece

Abbe Condenser With 1.25'' Iris With Diaphragm

Halogen Lamp Powered

Coarse And Fine Focuser

Movable Stage (Dual Axis)
The kit includes:
Levenhuk 625 biology microscope

Binocular head

WF10x eyepiece - 2 pieces

WF20x eyepiece - 2 pieces

4x objective lens

1 Piece Blue Filter

User manual and lifetime warranty
Customer comments
| Author/Date | Rating | Comment |
| --- | --- | --- |