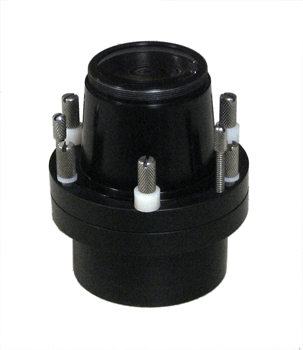 HyperStar 3 Lens - 8'' Celestron
Hyperstar 3 Lens - 8'' Celestron
HyperStar is based on Celestron's innovative Fastar feature. This feature allows the secondary mirror to be removed from Celestron's Schmidt-Cassegrain telescopes. By mounting the HyperStar lens assembly in place of the secondary mirror, a CCD camera can be mounted at the front of the telescope allowing for a wider field of view and much faster imaging.
Switching from HyperStar to the telescope's normal f/10 configuration is simple and fast. It takes only a minute or two, requires no tools, and the telescope's secondary mirror is indexed so no recollimation is necessary.
The HyperStar lens assembly works with a variety of cameras from Atik, Orion, Meade, Mallincam, SBIG, Starlight Xpress and more. Different cameras require different adapters in order to preserve the critical backfocus distance of the HyperStar lens. One adapter is included with the HyperStar lens. Please specify the camera being used when ordering.
A holder is included for safe storage of the secondary mirror while imaging.
The HyperStar systems allows an 8" telescope to operate at a focal ratio of f/2.1, an incredible 23 times faster than the standard f/10 focal ratio! Images can be obtained in just seconds!
Check out the HyperStar Website for more details and images taken using the HyperStar system.
Specifications
Focal Ratio: f/2.1
Focal Length: 425mm
Maximum Usable Sensor Size: 27mm Diagonal (APS Format)
Field of View (with 27mm sensor): 3.8 degrees
Camera Adapter Threaded for 2" (48mm) Filters
Backfocus (from mounting thread to focal plane): 39.8mm (1.57")
Length (without camera adapter): 3.5"
Diameter: 3.0"
Weight: 1 lb.
Please Message Us For Selection Of Ring For Your Camera Model/Mount Type - GEM Or Altitude Azimuth
Customer comments
| Author/Date | Rating | Comment |
| --- | --- | --- |