Celestron CGX-L 1100 Telescope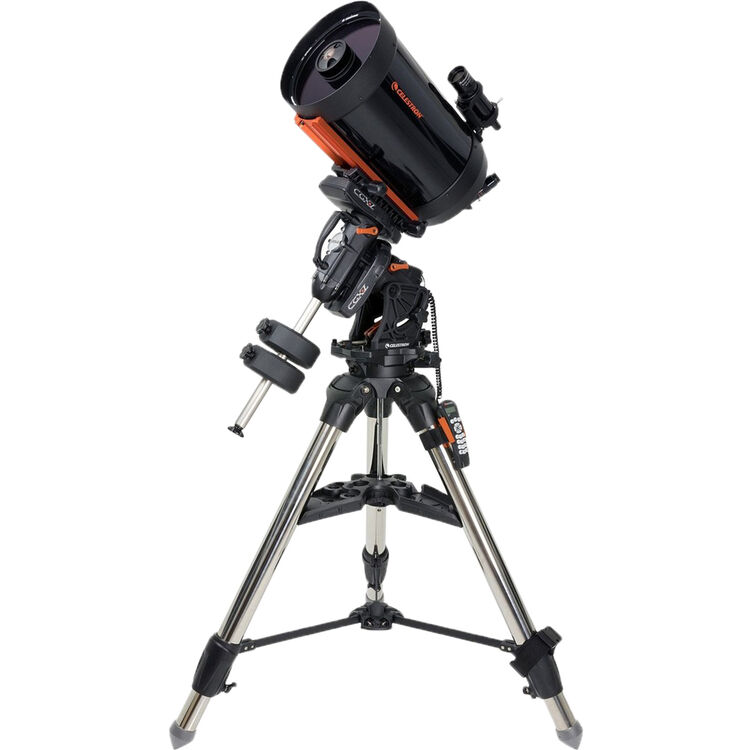 Celestron Schmidt Cassegrain Telescope Revolutionary Design Of Performance & Portability. Is Best Traveling Medium Sized Telescope. Coma Free Design Provide Superior Pin Point Stars Across Large Camera Area
Combining Advance Optical Coating And Technology, This Telescope Will Take You To The Next Step Of Serious Astronomy, Offering Impressive View Of Deep Space & Planets. Anaplatic Schmidt-Cassegrain Design Allow Very High Sharpness, Coma Free View & Clarity With Unmatched Resolution With Best Optics. Planets Show More Than Just Colour Bands - Jupiter Will Show It's Complex Weather Band Pattern At Finer Details, Saturn's Ring Showing More Division, Mars Showing It's Polar Ice Caps & Surface Details. Even Small Globular Cluster Start Resolving Into Individual Stars.
Anaplatic Schmidt Cassegrain Provide The Best Image For Best Visual Or Astrophotography. This Optical Design Is Superior Than Newtonian Design
Combine With Celestron CGX Mount For Best Portable Large Aperature EdgeHd Telescope
.
CGX-L Mount Features:
Celestron's CGX-L computerized equatorial mount is the pinnacle of our fully computerized equatorial mount series. Capable of carrying Celestron's largest optical tubes with ease, CGX-L is perfect for backyard observatories and remote imagers looking for exceptional load capacity to weight ratio, compact design, and innovative features that fully support large telescopes, imaging kits, and the latest in wireless tech accessories.
Key design goals included:
larger 144mm diameter worm wheels, which provide smoother operation and can more accurately drive heavier loads
a longer 270mm dovetail saddle to support larger optical tubes
remote operation-friendly features such as home and limit optical sensors
easier polar alignment adjustments
improved cable management
In addition to achieving all these goals, we've made mechanical and ergonomic improvements throughout CGX-L to make the mount sturdier, easier to use, and easier to transport.
Specifications
11'' (279mm)

F/10 Focal Ratio

2800mm Focal Length

Starbright XLT Multi-Coating

0.41 Arc Seconds Resolution

1588X Light Gathering Power

12% Secondary Mirror Obstruction Area

CGE Dovetail Bar
Included Items
Celestron C11 Telescope

Celestron CGX-L Equatorial Mount

Hand Controller

2.75'' Stainless Steel Tripod

9x50 Achromatic Finder Scope

2x 10Kg Counterweight

2 Years Warranty
Customer comments
| Author/Date | Rating | Comment |
| --- | --- | --- |