APM - LZOS Telescope Apo Refractor 130/ 780 3.7-inch focuser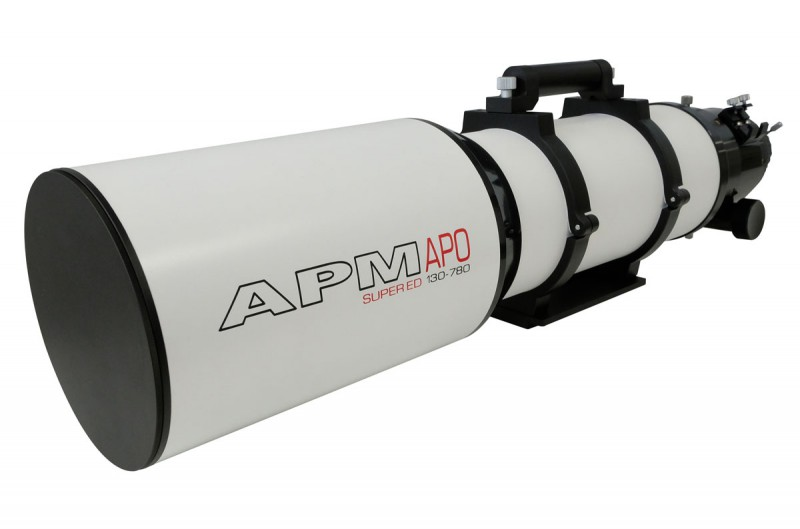 APM LZOS 130/780 SUPER ED APO
For many years, we have been producing and distributing high end refractors for science, research, public institutions and dedicated amateur astronomers worldwide.
The optics calculated by us be performed the highest quality standards. Likewise, the mechanical components, such as tubes, lens holders and focusers are manufactured to perfection.
To make APM's high-quality apochromats with the world-class 3-Lenses SuperED Apo optics more attractive, we have decided to offer an APM / LZOS-APO special edition at a lower price. This is made possible by our new, built-in APM 3.7 Rack and Pinion Focuser.
This all pays off for our demanding customers.
Optics: Our LZOS Super ED 3-Lenses are delivered with test protocol, Each optic is individually measured with a Zygo interferometer and logged with the serial number of the Opic.
Maximum Strehl (as with the Zeiss APQ) is guaranteed at 95% or better

The tube: Well-known APM construction with fast cool down tubes
APM 3.7″ Rack and Pinion Deluxe Focuser: The new 3,7″ focuser is a Rack and Pinion type, with 1:10 focusing. It remains rigid under high loads making it suitable for imaging. The attention to detail extends to areas like the 2″ and 1.25″ eyepiece adapters. These use a new design of collar clamp, far superior to the common brass compression rings found on lesser designs. Also new is our 2″ APM Fast Lock adapter now.

3.7″ Focuser (1:10 Microfocusing)
2″/1,25″ fast lock adapter
Shoe for Finderbracket
Adapter M82 x 1 ID
Adapter M82 x 1 OD to M68 x 1 ID
Adapter M68 x 1 OD to M63 x 1 ID
Adapter M63 x 1 OD to 2″ APM Fast Lock

Matching the telescope, we recommend the Riccardi M82 0.75x Reducer and the Flattener 1.0x – Model 1
Authorized Reseller For APM Telescope In Malaysia
Customer comments
| Author/Date | Rating | Comment |
| --- | --- | --- |